Discover the Countryside – Welcome to Övergran Farm Bed and breakfast!
We offer overnight accommodations in comfortable double rooms (extra bed can be provided upon request). Serving every morning a generous breakfast but you can also ask for self catering.
The Övergran farm is beautifully situated next to the Lake Mälaren. Animals play an important role on the farm – there are lots of, sheep, beef cattle, cats and kittens, and special riding Icelandic horses you can ride with a professional guide. We grow organic vegetables that you can pick yourself. We have a farm shop as well.
When you stay at our Swedish bed&breakfast, you can find numerous activities of interest. Try your hand in the kitchen, for instance, with expert guidance from one of our chefs. And after having a great meal – to finish off – why not take a bath in our outdoor heated barrel (an Icelandic hot pot) or our indoor bubble pool?
Our rooms are cosy and comfortable, with WC, spa like sauna and easy accessible shower.
Övergran has excellent transportation & communications with Stockholm, Uppsala and Arlanda. Open all through the year.
Fact sheet – The Övergran farm
107 hectares of arable land and 19 hectares of cultivated pasture
Iceland horses (25) and one North Swedish horse. Breeding, riding and courses.
Sheep (20) with lambs (last year 70), beef cattle (9)
Energy forest (20 hectares), blueberry cultivation (960 bushes) and hay for sale
Ecological cultivation since 1994 of vegetables as well as horse pastures
On the vegetable side, "Spångbergs saACT SHEET – THE ÖVERGRAN FARMltgurka" is a very special seed of great horticultural value, well known since 1887. The cucumber is marinated and sold in the farm shop. Used as an ingredient in many meals. Se our recipes.
The beer brewery was established in 2001 and is run by a Beer Guild of 20 members.
---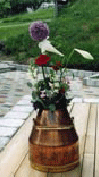 Ideal conference choice – a place for events!
We have a number of price-worthy package solutions for conferences and other groups with up to 70 participants. Together with neighbouring farms we can lodge 40 persons.
Thanks to our contacts with event companies we also have various exciting and educational activities to suit everyone. We can offer events such as beer brewing, riding tours, preparing our own dinners with one of our restaurant chefs supervising, etc. And of course weddings and birthday parties. Ask for our package offers!
---

Food the way it once tasted!
The food we serve at Övergran is based on primary products grown locally and prepared after old traditional recipes. We use ecologically grown vegetables and roots. Our specialities include marinated cucumbers, all cuts of lamb, game and beestings pudding made on the farm.
Get inspired by our recepies >>
---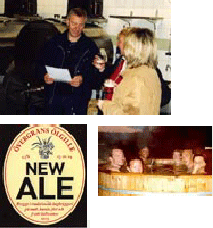 Would you like to learn the art of making beer?
Do you like beer? We at Övergran do too! So much so, in fact, that we started our own brewery and Beer Guild. Take the opportunity of sharing our experience and know-how of beer and how it is made! You can try it with our own marinated cucumber, home-made sausages and tasty snacks on the side.
We also arrange special brewery days where you are invited to take part the whole day making beer yourself and then enjoying the taste of your own production!
---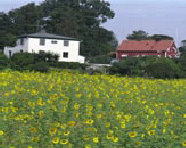 Try life on a farm – become a farmer for a couple of days!
Welcome to enjoy a farmers life with us at Övergran!
Comfortable rooms await you and the breakfast we serve is generous. You can also prepare your own food if you like – with easy access to our home grown produce in the farm shop.
We have many different types of activities both for grown-ups and children, young and old. Good bathing, fishing and boating is there to enjoy.
And summer riding camps!
We are affiliated with the "Live on a Farm" – "Bo på lantgård" project.
See how it is to live on our farm!
---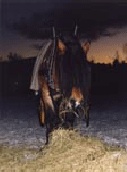 Horse!
Riding an Iceland horse is both exciting and educational, both for the completely untrained and the more experienced rider. Everyone is welcome, young and old.
We arrange different types of riding tours, from two-hour rides to longer trips which include spending the night in the forest. Courses lasting a whole term are also available. Our horses are calm and reliable, light footed and easy to handle and make friends with. – Helmets are available.
As a bonus, these fine horses will give you the memorable opportunity of enjoying the beautiful Mälaren scenery from horseback!
---
For information and booking
Övergrans Jordbruk, Övergrans Kyrkväg 1, 746 93 BÅLSTA, Sweden
Telephone: +46 171 52222 Fax: +46 171 52310
Mobile: +46 70 5884184 eller +46 70 5866662
E-mail: upplevlandet@overgrans-jordbruk.se